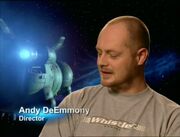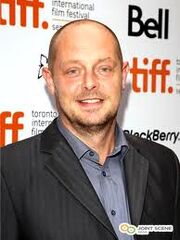 Andy de Emmony is a director of film and television who directed Series VI of Red Dwarf when Ed Bye was unavailable.
Biography
Andy had studied art at university and worked as a puppet maker on Spitting Image. When he moved from sculpting to art direction and photography, the producers sent him to film school and he returned to direct several series of Spitting Image.
Rob Grant and Doug Naylor wanted to both write and direct Series VI, but time constraints required them to bring in another director. Andy sent in a show-reel for the job to Rob and Doug. They had worked with Andy on Spitting Image and asked him to direct.
The cast heard his name and assumed that he was South African and, even when he proved to be English, they would tease him by speaking in cod South African accents. He finished series VI, but when series VII came around, Ed Bye was available once more.
Andy went on to direct many different shows including Father Ted, Cutting It and 55 Degrees North. He also directed one-off dramas like Kenneth Williams: Fantabulosa!, Filth: The Mary Whitehouse Story and God on Trial.
He has also directed feature films, starting with West Is West and most recently Love Bite.
External links