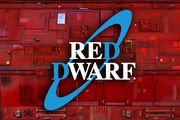 Blu Dwarf is a thirtieth-anniversary restoration project for Series I to VIII of Red Dwarf, undertaken by original creator Doug Naylor along with restoration artist Simon Edwards and his team. It is to be produced by BBC Studios; the first time the BBC have been involved with Red Dwarf since Series VIII in 1999 (and the Dave channel began producing the show a decade later).
Unlike the earlier Red Dwarf Remastered project, which was controversial among Dwarfers, Blu Dwarf is to include no new special effects, re-recorded lines or cut jokes in Blu Dwarf, just a high-definition, fresh polish on visuals, colour and sound.
The boxset was finally released in early 2019, although there have been technical glitches with it. An updated, fixed edition is due to be released in the near future.
Boxset release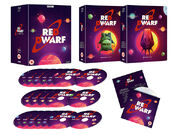 The upscaled episodes, along with their respective documentaries, are being transferred to Blu-ray format, and are due to be released in an upcoming boxset with over 19 discs.
The boxset is due to be the most comprehensive collection of behind-the-scenes content of Red Dwarf ever yet made available. As well as previously unseen footage, it will include the documentaries and special features which were unique to the now extremely rare and highly sought-after The Bodysnatcher Collection. This will include the "original assembly" of the pilot episode, and lost episodes "Bodysnatcher" and "Dad".
The Blu Dwarf boxset was originally to be released 1 October 2018[2], however at fan convention Dimension Jump XX Doug Naylor revealed that this has been pushed back to January 2019 due to technical issues with the extensive special features.[3]
Technical issues
The first batch of Blu Dwarf boxsets had a number of quality issues, especially with the discs for Series III and V, disappointing a large number of fans. These issues included poor quality picture on some episodes, and a "motion-blur" type effect on others.[4] However, these issues are to be resolved and a fixed edition is soon to be released, and fans who had purchased the faulty first batch have been promised free replacements from BBC Studios when they are available.[5]
References