Jurassic World: Dominion Dominates Fandom Wikis - The Loop
Play Sound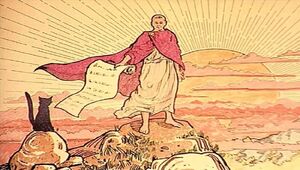 The Seven Cat Commandments were a list of religious laws developed by the Cat People.
During the three million years that Dave Lister spent in Stasis, the Cat Race evolved to a point where they needed religious laws to keep themselves in order. Cat priests were responsible for enforcing these commandments.
The Seven Commandments were:
THOU SHALT NOT BE COOL
THOU SHALT NOT BE IN VAIN
THOU SHALT NOT HAVE MORE THAN TEN SUITS
THOU SHALT NOT PARTAKE OF CARNAL KNOWLEDGE WITH MORE THAN FOUR MEMBERS OF THE OPPOSITE SEX AT ANY ONE SESSION
THOU SHALT NOT SLINK
THOU SHALT NOT HOG THE BATHROOM
THOU SHALT NOT STEAL ANOTHER'S HAIR-GEL
Punishments meted out for transgressions were strict. Cats caught slinking had their showers confiscated; those found to be vain were deprived of their hairdryers and made to wear clothes two or three seasons out of date (Infinity Welcomes Careful Drivers).
Behind the Scenes
The Seven Commandments were mentioned in the first Red Dwarf novel. In the television episode "Waiting for God", Lister studies Cat culture and discovers that Cloister had given them Five Sacred Laws, four of which he had broken himself; he said he hadn't broken the fifth because 'there were no sheep on board. These two references do not necessarily contradict each other; it is possible that the Cat people had both Sacred Laws and Commandments.