I've been on G Deck now all my life. But you hear these stories about dispensers coming here from

P Deck

and B Deck, because they know our servicing programs are free. Before you know it they'll be taking over. How are you going to stop that?
- 402 to Kryten
Dispenser 402, also simply called 402, was one of the many artificially intelligent vending machines aboard Red Dwarf.
402 resided in a corridor on G Deck, in a location which was a locus of elevators and shuttle bays. There were also several vending machines located alongside it, numbered from 400 upwards, including snack dispensers and a tobacco dispenser. 402, a drinks dispenser, was the more independently-minded and vocal machines on G Deck.
History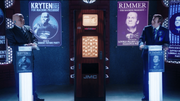 to be completed
("Mechocracy", Series XII)
Behind the scenes
See also