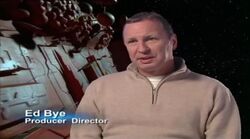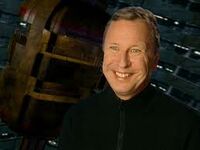 Edward Richard Morrison Bye was the Producer and Director on every series of Red Dwarf apart from V and VI, with Doug Naylor later taking over as director for Back to Earth and Series X.
Ed directed every episode of the first four series, but had to bow out in order to work on The Full Wax, prompting the producers to hire Juliet May and Andy de Emmony to direct Series V and VI respectively. When Series VII came around, he was available once again.
Ed had to take one day off during the filming of "White Hole", so the direction was taken over by an uncredited Paul Jackson.
When last minute rewrites required someone to play the Grim Reaper in "Only the Good...", Ed was the obvious choice because he was so tall. He put on the robe and sandals and stepped into the breech to end the show.
He has had an extensive career as a film and television director, producer and writer. He started the production company Tall TV in 2011.
He is married to actress Ruby Wax (who played Blaize Falconburger in "Timeslides") and has three children.
Ed Bye has stated that his favorite Red Dwarf character is Talkie Toaster.
External links