Jurassic World: Dominion Dominates Fandom Wikis - The Loop
Play Sound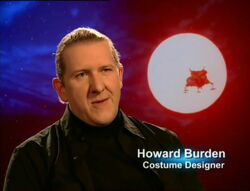 Howard Burden was the costume designer for Red Dwarf from Series III onwards.
Biography
Burden studied at the Maidstone College of Art and then took a degree in theatre design at the Wimbledon School of Arts. He took a job as a freelance assistant with the BBC. He worked mostly as a costume assistant on shows such as Filthy Rich and Catflap with Ed Bye.
Red Dwarf was the first show on which he worked as costume designer. He was asked to replace Jackie Pinks and completely revamp the costumes for Series III. He was responsible for several iconic costumes, such as Lister's leather jacket, The Cat's PVC suits and zebra print coat, Rimmer's shiny uniform and Kryten's bodywork. He later designed costumes for all kinds of life forms, the Canaries and even recreated Pinks' original Space Corps uniforms for Series VIII.
He has also worked extensively on films including The Young Americans, The Matchmaker, Tooth, The Hot Potato, and Crossmaglen. He has also worked on many television shows like The Bill, The Scarlet Pimpernel, Redcap, Whitechapel, and Robin Hood. 
When a shirt was required for Chloë Annett to wear in bed for the episode "Epideme", Burden provided her with one of his own. It was much too big for her, since he is a much larger person.
When Lister read a magazine during a visit to 21st century Earth, he saw an article about Chloë Annett, who played his missing love Kristine Kochanski. The article featured Annett with her two small children. These were actually the children of Howard Burden.
Burden's single acting credit is as a stand-in for Brian Cox as the King of Camelot in Series VII's "Stoke Me a Clipper", for whom Burden also designed the clothes.