Jurassic World: Dominion Dominates Fandom Wikis - The Loop
Play Sound
Mel Bibby (1947 - 2002) was the BBC production designer for the Red Dwarf television series from Series III - VIII.
Bibby replaced Paul Montague who was the production designer of Series I and II, and who had opted for a more "submarine, grey" look of the sets. Bibby was responsible for the much more detailed and colourful sets from Series III onwards, such as the Officers Quarters of Red Dwarf - the crew's upgraded sleeping quarters - and the interior of the new shuttle, Starbug.
By the time of Series IV, Bibby added a long corridor which could be shuffled around and re-lighted easily to appear as different corridors and give Red Dwarf a sense of scale. These could first be seen from the episode "Camille" onwards. The cast also found this better since they were able to rehearse where shooting would take place for the first time.
Bibby passed a way in 2002, and Grant Naylor Productions made a documentary - Red Dwarf: Building a Better Universe - A Tribute to Mel Bibby - a year later to celebrate and honour his work on the look of the series. This documentary was included in the DVD release of Series III.
Trivia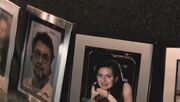 The only recorded footage of Bibby discussing his work on Red Dwarf is included in the documentary Red Dwarf: Building a Better Universe - A Tribute to Mel Bibby (2003), in which he talks about how the 1979 film Alien influenced his attitude to set design. The documentary was created for the DVD release of Series III.
External Links