This article is about the Cat's mermaid girlfriend. Not to be confused with the moon of the same name.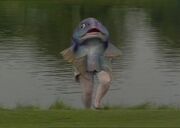 Miranda is a mermaid "girlfriend" of the Cat.
When the boys from the Dwarf entered the T.I.V. "Better Than Life", the Cat fantasied about dating Marilyn Monroe. However, he would often brush off Marilyn Monroe for another girlfriend, a mermaid who lived in a lake. Marilyn Monroe became angry and jealous at this.
When the Holly Robot met Miranda, he was very surprised as to how Miranda differed from traditional human depictions of mermaids. In the Felis sapiens version, Miranda had a human lower half and legs, and a fishy head. (Better Than Life, Series II)
Behind the scenes
Miranda was portrayed by Debbie King, who went on to become a quiz show host and a television presenter of her own talk show.
In the remastered version of Better Than Life, Miranda was edited out due to time constraints.