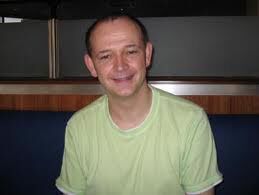 Paul Alexander is a British comedy writer who co-wrote five episodes of Red Dwarf and worked as script supervisor for Series 8.
Biography
Paul studied at Royal Holloway College and left university determined to be a comic book writer. After struggling to make it in comics, he wrote a TV play that was bought by the BBC. This led to him beginning to write for comedians such as Jasper Carrott and Dave Allen.
He was approached by Doug Naylor to write an episode of The 10%ers and ended up co-writing another and editing some others. When Rob Grant decided not to write for the seventh series of Red Dwarf, Naylor asked Alexander to pitch ideas. He co-wrote the episodes "Stoke Me a Clipper", "Epideme", and "Nanarchy".
When the time came for Series 8, Naylor hired Alexander to be script editor and oversee all the writing. He also co-wrote the episodes "Krytie TV" and "Pete II". Alexander submitted his own script, "Phwoaarr", which was rejected, though one of the gags in the script was reworked and reused in "Cassandra".
Since working on Red Dwarf, he has written for TV shows such as Goodnight Sweetheart, My Hero, Emmerdale, My Parents Are Aliens, and Life of Riley. He also wrote extensively for S Club 7 TV and Movie projects. He has worked as a producer on several projects including The Green Green Grass and the film Staggered. On many of his projects he has worked alongside fellow former Red Dwarf writer Kim Fuller.
He also worked on other Red Dwarf projects, such as Can't Smeg, Won't Smeg and the book The Red Dwarf Space Corps Survival Guide with Mike O'Hagen.
External Links