Jurassic World: Dominion Dominates Fandom Wikis - The Loop
Play Sound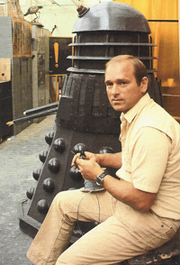 Peter Howard Wragg (born Buckinghamshire, England, December 13th, 1946 - died 15th April, 2012) was the Visual Effects Designer on Red Dwarf from Series I to Series VII.
Career
Wragg was brought up in Slough, England and started working in a bank as a young man. His hobby was model-making and when his father's company had a contract with Gerry Anderson's puppet film company AP Films, Wragg worked for them as an assistant and later as an effects designer on shows including Thunderbirds and Captain Scarlet and the Mysterons.
Moving to the BBC, Wragg worked on many iconic programmes, such as Doctor Who, Allo Allo!, Filthy Rich & Catflap, Bottom and The Two Ronnies.
Work on Red Dwarf
Grant Naylor Productions recruited Peter Wragg for Red Dwarf because of his extensive work with models.
Wragg created many of the show's models, including Starbug, Blue Midget and Red Dwarf itself. Although writers had some ideas for the ship, such as the Front Ramscoop, Wragg came up with other ideas, such as the embedded meteorites to make the ship appear less conventional, older and more travelled. He was also responsible for destroying the original Red Dwarf model for the Series V episode "Demons and Angels".
One of Wragg's other creations was the make-up and prosthetics used by David Ross and later Robert Llewellyn for the mechanoid Kryten; Wragg worked with make-up designer Bethan Jones in developing the mechanoid masks.
Wragg enjoyed working with water, creating many underwater scenes and model shots. Craig Charles joked that Wragg needed little excuse for putting on his wetsuit, even doing it when it was simply raining.
Wragg described one of the exciting points in his career as when he got to explode the gazebo with a T-72 Tank in Pride and Prejudice Land for the Series VII episode "Beyond a Joke". It was such a big explosion that, 15 years later, showrunner Doug Naylor joked that pieces of the gazebo were still falling.
Later life
Peter Wragg retired from television in 2000. He passed away in April 2012, at the age of 65 following a short illness, and was survived by a wife and two children. The final episode of Series X was dedicated to his memory.
Gallery
External links