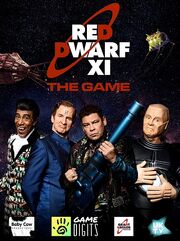 Red Dwarf XI: The Game is a 2016 video game for mobile phones / tablets created to tie in with Series XI of Red Dwarf.
Production
The game was produced by GameDigits on license from Grant Naylor Productions, UKTV Media Ltd and Baby Cow Productions. Robert Llewellyn (Kryten) provided the voice-over tutorial at the beginning of the game as well as lending his voice to the game's promotional material broadcasted on television.
The game was released in episodic installments, with each level being based on different episodes in Series XI. Some of the game is shooting based, whilst others are trivia and problem solving. There are also various mini-games added in; for example, recharging Kryten by putting jump-leads on his nipple nuts.
The first installment, based on "Twentica", was released in September 2016. Levels based on the episodes "Twentica", "Samsara", Give & Take, and "Officer Rimmer" were subsequently released.
However, levels based on "Krysis" and "Can of Worms" were never completed as GameDigits concentrated on making the sequel instead.
Product description
Red Dwarf XI: The Game is an action-packed mobile game that ties in with series XI of the multi-award winning TV show. Take command of the mining ship
Red Dwarf
and follow the characters on a journey through Deep Space, trying to find Earth. The game mirrors the episodes within the series and contains additional content written by Doug Naylor specifically for the game. For the first time ever, fans and friends can now play in the Red Dwarf Universe on the App Store anytime, anywhere! Experience an explosive mix of arcade, strategy and action games while journeying through Deep Space. Unlock more games as the story unfolds, collecting special items and ultimately upgrading your ship. With a wide range of varied experiences, from blasting your way through an asteroid field, to trying to master
Starbug
's complex control panels. This game sets out to be the most advanced and compelling Red Dwarf mobile game to date. Progress through the game, unlock more content and achieve an overall score, ranked alongside other players worldwide.
Gallery
Reception
The game received polarising reviews from the fans. Some praised its creativity, whilst others were frustrated by the controls, the high difficulty levels, and for not following the episodes entirely.[1][2] However GameDigits engaged in open dialogue with the fans, undertaking a large number of changes to the game which were agreed upon.[3]
Sequel
Developer GameDigits cancelled any further episodic releases for XI: The Game to focus on developing the sequel, Red Dwarf XII: The Game.
External links
References