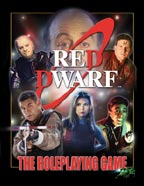 Red Dwarf the Roleplaying Game was released by Deep 7 in 2002. Based on the series, the game allows characters to portray original characters within the Red Dwarf universe. Player characters can be human survivors, holograms, evolved house pets (cats, dogs, iguanas, rabbits, rats and mice), various types of mechanoid (Series 4000, Hudzen 10 and Waxdroids in the corebook, Series 3000 in the "Extra Bits Book") or GELFs (Kinitawowi and Pleasure GELF in the corebook, Vindaloovians in the "Extra Bits Book").
A total of three products were released for the game: the core 170-page rulebook, the AI Screen (analogous to the Game Master's Screen used in other roleplaying games, also featuring the "Extra Bits Book" booklet), and the "Series Sourcebook". The "Series Sourcebook" contains plot summaries of each episode of every series up through Series VIII as well as game rules for all major and minor characters from each series.
The game has been praised for staying true to the comedic nature of the series, for its entertaining writing, and for the detail to which the background material is explained. However, some reviewers found the game mechanics to be simplistic and uninspiring compared to other science fiction roleplaying games on the market.
External Links