This article is about Rimmer's own Officer's Club aboard Red Dwarf. For the original, see Officer's Club.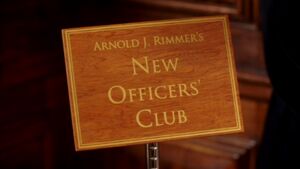 Rimmer's New Officer's Club was a stylish and elegant (albeit pretentious and self-promoting) gentleman's club on the city-sized spaceship Red Dwarf.
History
When Arnold Rimmer was promoted from Second Tech to First Flight Lieutenant by Edwin Herring after an act of gross deception, Rimmer set about making the lives of his Red Dwarf crewmates miserable.
Although Red Dwarf already had its own Officer's Club, Rimmer wanted his own, and he wanted it to be grander than the previous and out-of-limits to the "lower orders". One of his major actions after his promotion was to order the skutters to set about building his own private club on D Deck. Rimmer set about using his recently-acquired bio-printer from the SS Nautilus to create dozens of clones of himself, all officers, whom he could order about and to fill out his new officer's club with. This included numerous sycophantic lackeys laughing at each other's jokes, a waiter, and even a barbershop quartet. Rimmer declares it the best entertainment in the galaxy.
When Lister and Cat learned of this madness, they barged their way into Rimmer's new club to look for the bio-printer unaware that it was hidden elsewhere, and ignoring the original Rimmer's orders to stay out of his club.
Angered by this, Rimmer ordered Kryten to print out four "huge, muscular, and brave" clones of himself to be made. However a terrible accident with the bio-printer resulted in them being mashed together, and completely deranged. The resulting Rimmer Monster began to stalk all the other Rimmer clones and "absorbed" them into it's own mass. Rimmer's new club was emptied out of clones in this manner. The original Rimmer had to get the help of his crewmates in destroying his malevolent creation, but they refused until he gave up his position as officer and returned to a second technician.
After this disastrous chain of events, Rimmer's new Officer's Club was likely left derelict or dismantled. (Officer Rimmer, Series XI)
Music
The music playing in the background of Rimmer's new Officer's Club may be familiar to die-hard Dwarfers. It is a classical version of the Rimmer Munchkin Song during "The Rimmer Experience", from the episode Blue of Series VII.
The Rimmer Barbershop Quartet sing a modified version of the 1950s classic Mr. Sandman, albeit with lyrics changed to describe how "cute" Rimmer is.
Gallery
Video