"Three words to describe Red Dwarf X? I'll give you four: Back. To. Its. Best."
- Doug Naylor, RadioTimes Interview
Series X is the tenth television series of Red Dwarf. It first aired from 4 October 2012 through 8 November on the Dave channel.
Filming took place in November and December of 2011 and January of 2012 at Shepperton Studios, and for the first time in many years featured a return to being filmed in front of a live studio audience. The series was commissioned by Dave, the same network who commissioned Back to Earth, although Series X is a return to the more traditional format of the show. Creator Doug Naylor's son, Richard Naylor, joined as a producer on this series.
An eleventh series, Series XI, was broadcast by Dave in Autumn 2016.
Summary
Older but still none the wiser, the Dwarfers return only to get entangled in a new series of adventures. Lister grapples with being his own father and perhaps even being a father, as Rimmer has to deal with his own family issues. And although once again on their own on Red Dwarf, the crew still manages to get involved with a variety of unique characters, including at least one potentially famous historical figure and the head of an entire institute devoted to failure. All of this climaxes in a series finale featuring the largest ever dogfight shown on the show to date, and Rimmer in victory reiterating the pilot episode's closing words "The slime's coming home!"
Main Cast
Episodes
The series consists of six episodes with each lasting a half hour, though they were broadcast in a forty minute time slot to make room for commercial breaks. The six-episode format marked a return to the shorter seasons Red Dwarf aired during its first six series. Episodes titles filtered out onto the Internet in late August 2012, followed by some initial episode synopsis, with all finally revealed 19 September 2012. As a new trend for the show, most of the episodes featured sub-plots, although the success of this move has been questioned.
Picture
Title
Original Airdate
Episode #
Trojan
[4 October]] 2012
56
The Dwarfers' mining ship is still creaking though the wastelands of unchartered deep space, but the posse soon stumble upon the mysteriously abandoned SS Trojan. As they inspect the ship Rimmer receives an SOS Distress Call from a doomed ship commanded by his all-conquering brother, Howard. But Rimmer can't bring himself to save Howard until he's on an equal footing career-wise. Meanwhile, Lister and Cat become hooked on an intergalactic shopping network.
Fathers & Suns
11 October 2012
57
Every year Lister sends himself a Father's Day card to celebrate the fact that he is his own father, but when Rimmer points out he's been a lousy father to himself Lister decides to do something about it. Meanwhile, Rimmer and Kryten install a new computer; the beautiful, but lethally logical, Pree.
Lemons
18 October 2012
58
Marooned in Britain in 23 AD, the Dwarfers need an 8-volt battery to power up their Returner Remote and get home. Remembering a lesson from school Rimmer suggests they make a battery out of lemons but the nearest lemon to Britain in 23 AD is in India 4,000 miles away. They begin their journey, a journey that will ultimately lead them to a meeting with a historical A-List celebrity that could alter the entire history of civilization.
Entangled
25 October 2012
59
Lister loses Rimmer in a game of poker to a group of Biologically Engineered Life Forms and in return gets an unwanted gift: a groinal exploder programmed to detonate in 24 hours unless Lister pays his debts. Meanwhile, Kryten and Cat become quantum entangled and do everything in perfect unison.
Dear Dave
1 November 2012
60
Lister has women trouble when he gets himself in a love triangle with Snack Dispensers 23 and 34, then to make matter worse gets a letter from an old girlfriend telling him she's pregnant and it might be his. Lister and Rimmer hunt through the mountain of letters from the mail pod to discover if Lister is finally a dad.
The Beginning
8 November 2012
61
Hiding in an asteroid belt surrounded by a Simulant Death Ship and a fleet of Annihilators, with only two forks and a pencil sharpener to defend themselves, the Dwarfers begin to wonder whether this is the beginning of the end. Only one man can save them. Unfortunately, that man is Arnold J Rimmer.
Background Information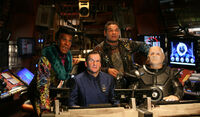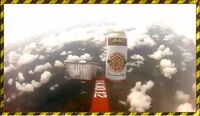 DVD artwork
The Series X DVD contains the first instance of a reversible cover - a trend which continues for the Series XI and XII. One side is mostly black, with artwork of the main characters against a space backdrop. On the reverse, the new red sleeping quarters used by the characters from Series X onwards is the backdrop to the artwork, in the same style of previous Red Dwarf DVD covers. Along the spine, Jesus of Caesarea is featured.
External Links