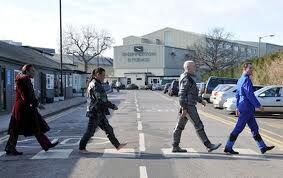 Shepperton Studios is a film studio located in Shepperton, Surrey, England, to the south-west of London.
Red Dwarf, having first being filmed in Manchester, began filming at Shepperton for Series IV (1990). Filming continued at Shepperton until Series XI (2015), when filming moved to Pinewood Studios.
Moving from Manchester
When the series was commissioned by BBC North West, the filming began at New Broadcasting House in Manchester. Rehearsing in London and then moving up to Manchester was a terrific strain on production and for the cast who mostly lived in the south of England. After the first three series, the decision was made to leave Manchester and set up filming at Shepperton Studios.
Shepperton, which is only 15 miles from central London, was much more convenient and enabled the crew to leave their sets up for the duration of filming, allowing for rehearsals to take place on set. Production of the show was based there for all the following series. Several location shoots were filmed on the grounds of the studio, including the original mansion and its gardens which became the headquarters of VillainWorld in the episode "Meltdown". Other scenes shot on the backlots include exterior scenes from "Rimmerworld", the lake on the Psi-moon from "Terrorform", "Attack of the Giant, Savage, Completely Invisible Aliens" and several of the "Blade Runner" scenes from "Back to Earth". Most of the model shots were also filmed at Shepperton.
Some members of the cast and crew took short-term accommodation in Shepperton during the weeks of filming, rather than commute to Shepperton every day. Even with this expense, it was still cheaper than putting up the entire workforce in hotels in Manchester.
Most of the filming at Shepperton was in front of a studio audience. They provided a live laughter track until Series VII, when the decision was made to dispense with the audience. The audience returned for Series VIII, but when Red Dwarf returned after a long hiatus, no audience was used, partly for fear that they would give away secrets of the production. When Series X was filmed using a live audience, they were asked to keep anything they saw a secret until broadcast.
External links
Shepperton Studios at Wikipedia