Jurassic World: Dominion Dominates Fandom Wikis - The Loop
Play Sound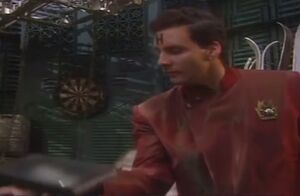 The Space Corps Directives, or SCDs, also sometimes referred to the "Articles, Acts or Protocols" of the Space Corps, are a running joke in the Red Dwarf television series. The Space Corps is somewhat analogous to Starfleet from Star Trek, and is responsible for the administrative organisation of all space travel in the Red Dwarf universe; the Directives are a list of this organisation's regulations. They may be a parody of the Prime Directive from Star Trek.
Overview
A prelude to the Space Corps Directives were featured in the episode "Queeg", where Holly, masquerading as "Queeg 500", would use "Articles" to force the crew to work, as well as perform other unsavoury acts. As "Queeg" was merely an illusion, the authenticity of the Articles and their influence remains suspect.
When first introduced, the Directives were used by Kryten to coerce Arnold Rimmer into acting for the common good, or to highlight the less than exemplary behaviour of the rest of the crew. The normal pattern would be for Kryten to quote the number of regulation and then, in response to a challenge, he would quote the entire regulation to which one of the crew would respond with some pithy comment or other.
Later on, Rimmer attempts to fight back by quoting from the same regulations (starting in "Quarantine"), but his imperfect recall of the Directives means that he normally quotes the wrong paragraph number and instead references obscure and bizarre Directives that have little or no relevance to the situation at hand. An additional source of humour usually comes from the fact that the directive Rimmer wishes to quote is in fact the next or previous one, and hence should be at least similar in subject matter, but are in fact wildly different.
For example:
RIMMER: "I don't know what it is you think you're doing, but boarding this vessel is an act of war. Ergo, we surrender, and as prisoners of war, I'm invoking All-Nations Agreement Article 39436175880932/B."
KRYTEN: "39436175880932/B? 'All nations attending the conference are only allocated one parking space?' Is that entirely relevant sir? I mean, here we are, in mortal danger and you're worried about the Chinese delegates bringing two cars."
RIMMER: "Can't you let just one go? I was talking about the right of POWs to non-violent constraint."
KRYTEN: "But that's 394361758880932/C, sir."
List of Known Directives
Unnumbered
Numbered
Rimmer Directives
There are also a number of Rimmer Directives, which Rimmer makes up to counter Kryten's use of the regulations:
271. 'No chance, you metal bastard.' Used to counter Space Corps Directive 195 in the episode "White Hole".
An unspecified directive (Simply referred to as "The Rimmer Directive"): 'Never tangle with anything that's got more teeth than the entire Osmond family.' ("Polymorph")