This article is about the 2020 television movie, not to be confused with Red Dwarf: The Movie, an unproduced project from the early 2000s, or with Fuchal, the
Felis sapiens
"Promised Land" of the title.

Red Dwarf: The Promised Land (also referred to simply as The Promised Land, and colloquially but not officially as Series XIII) is a movie-length[1] Red Dwarf television special. It was written and directed by franchise co-creator Doug Naylor, and produced by his son Richard Naylor.
The Promised Land was broadcast on the Dave channel in the UK on Thursday 9 April 2020.[2]
The plot involves the boys from the Dwarf finally coming across Cat's people, the Felis sapiens. A despondent Dave Lister is mistaken as Cloister, the god of the cat race, and has to continue the act, in a reference to the Series I episode "Waiting for God". Cat is also forced to come to terms with his past, and the most useless and cowardly entity in The Universe, Arnold Rimmer, is forced find his inner hero in order to save everybody.
Production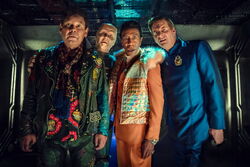 Although Series XIII of Red Dwarf was never confirmed after the airing of Series XII, it was widely rumoured to be happening from as early as the spring of 2018. Statements from cast members including Danny John-Jules and Robert Llewellyn at Dimension Jump and other conventions, and later in 2019 from creator Doug Naylor himself, confirmed that more Red Dwarf was going to be made in some format, whether it be another series, a stage show, or a movie.[3][4][5][6][7]
In early 2019, the cast came together to film a short television advert for motoring organisation AA called "Stellar Rescue", in which the Dwarfers break down in Starbug and are rescued by the AA[8]. The advert demonstrated the fact that the Series XII sets are still in place; the advert was well received and stoked interest in further Red Dwarf material.[9]
In October 2019, the official Red Dwarf website announced that a feature-length television 'special' would air in 2020. Doug Naylor is set to both write and direct.[10]
As with the Back to Earth three-part special (2009) and the subsequent television series, the special was produced and aired by the Dave channel. As with the most recent two series, Series XI and Series XII, the special was co-produced by Baby Cow Productions and was filmed in front of a live studio audience at Pinewood Studios.[11]
All of the filming was due to take place in December 2019, with ticket ballot applications for the studio audience available through the Lost in TV website.[12] One of the two live audience recordings was postponed for a few weeks due to Robert Llewellyn being taken to hospital with an illness, and shooting was rescheduled for January 2020. Llewellyn eventually returned and The first round of filming took place 13 December 2019 and the second on 11 January 2020, both at Pinewood Studios[13][14]
Rehearsal pictures revealed that Norman Lovett was back with the rest of the cast.[15] Lovett again reprised the role of Holly as he did in the Series XII finale, "Skipper".[1]
Post-production digital effects were created by two effects houses, Outpost Facilities and Axis VFX, and comprised over 500 VFX shots.[16]
As he did with the previous series, Matthew Clark of the art department kept an extensive production diary of "The Promised Land" which detailed design and construction of the sets and props. Mr Clark then publicly posted this to social media site Twitter after the special had aired on Dave.[17]
Promotional Material
Magazines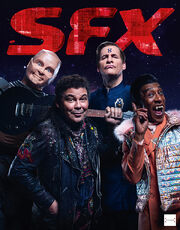 Issue #325 of SFX magazine (April 2020) was centric to Red Dwarf, covering The Promised Land and featuring several different magazine covers, exclusive behind-the-scenes photographs, and posters.[18] SFX magazine has a history of covering Red Dwarf exclusives going back to 1996, although The Promised Land coverage was the most in-depth.[19]
UK SciFi Now magazine Issue #170 also covered The Promised Land.[20]
Trailers
On 10 March 2020, the first sneak peak of the 2020 special started airing on the UK channel Dave.
The teaser trailer is in the dramatic style of a serious film trailer, and showcases the CGI that will be used in the special, including shots of spacecraft, a planet, and multiple explosions. There is also a shot of the new character, the cat leader Rodon, and sections of dialogue from the Boys from the Dwarf, including Kryten saying something about the crew needing to find a new ship.
A longer fifty-second trailer was released 20 March 2019 which announced the air date of 9 April 2020.
Sneak Peek
On April 3rd, UKTV uploaded the pre-opening sequence of the special to YouTube, a segment lasting four and a half minutes.[21]
The sneak peek garnered positive reviews from Dwarfers.[22]
Posters
Documentaries
The Promised Doc
A thirty-minute making-of documentary, The Promised Doc, has been made available on the UKTV Play on-demand streaming service[23], which will later also be included on the DVD/Blu-ray home video release.
The First Three Million Years
Main article: The First Three Million Years
The First Three Million Years is an in-depth, three-part, retrospective Red Dwarf documentary originally due to be broadcast on the Dave channel around the same time as The Promised Land.[24] However issues caused by the coronavirus pandemic and subsequent lockdown delayed the post-production[25], and it was eventually aired on Dave in August 2020.[26]
Official Synopsis
An official synopsis of the special was released by channel Dave in February 2020:[1]
"The new 90-minute special is the thirteenth outing of the legendary sci-fi comedy. It reunites the original cast of Chris Barrie (Rimmer), Craig Charles (Lister), Danny John-Jules (Cat) Robert Llewellyn (Kryten) and sees the return of Holly (Norman Lovett) the much loved ship's computer. Written and directed by Doug Naylor, it was recorded in front of a live studio audience over two nights at the world famous Pinewood Studios.
Three million years ago... David Lister, a vending machine repairman, was sentenced to eighteen months in suspended animation for smuggling his pregnant cat aboard the mining ship Red Dwarf. While Lister remained in stasis, a radiation leak killed the rest of the crew. Safely sealed in the hold, the cats evolved into humanoid form. The cats now roam deep space in a fleet of their own...
The posse meet three cat clerics (Tom Bennett, Mandeep Dhillon, Lucy Pearman) who worship Lister as their god. Lister vows to help them as they're being hunted by Rodon, the ruthless feral cat leader (Ray Fearon) who has vowed to wipe out all cats who worship anyone but him."
Summary
Part 1
Prologue
Three million years ago... David Lister was sentenced to eighteen months in suspended animation for smuggling his pregnant cat aboard the mining ship Red Dwarf. While Lister was in stasis, a radiation leak killed the rest of the crew. Safely sealed in the hold, the cats evolved into humanoid form. The cats now roam Deep Space in a fleet of their own...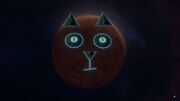 A star then emerges from behind a planetoid as the Cat Fleet flies in front of it. The ships line up in front of the planetoid, forming a stylised "cat face".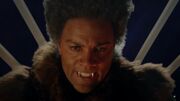 Inside his throne room, Rodon, sovereign of the Feral Cats and self-styled 'living god', turns from staring out into space and bares his golden incisor teeth. He is preparing to torture a dissident for information, and begins scratching his back with his over-sized claws. The rebel, Brother Sol, is a Cat Cleric of their old religion and worships Cloister, which Rodon has outlawed. Sol says that he will tell Rodon everything, and Rodon cruelly teases him by asking how much of The Universe is composed of dark matter.
Rodon's royal aide, Count Ludo, enters through the cat flap-like door with a confiscated copy of the Book of Smeg and the news that he has captured some more 'insurgents'. Rodon orders them to be brought in, and they are brought in at gunpoint by two feral guards.
The prisoners are two female cats, Sister Luna and Sister Peanut, also Clerics like Sol, who plead with Rodon to embrace the teachings of Cloister since under his rule nobody is working or sharing and their economy has crashed. Rodon states that he is their only god, and orders the two guards to take away Sol, Luna and Peanut and that the prisoners be made an example of by being hanged in the marketplace.
As the two feral guards lead the three Clerics away down the hallway, crowds gather, and a sympathetic cat commoner stealthily passes Luna a laser pointer. Luna begins shining it at an airlock, making sure not to look at the beam herself. The dot distracts the feral guards, who cannot resist following the dot of light into the airlock. Peanut, who is averting her gaze, has to pull Sol back from also following them into the airlock. The clerics then seal the airlock door on the ferals.
Sol, Luna, and Peanut then flee from the fleet in a shuttle. Sol vows that they will one day return to liberate their people. Peanut, who is mute, uses sign language to say that their faith in Cloister will protect them. Luna suggests that they search for the place of their birth, Red Dwarf, and seek help from Cloister, whom they hope to find there.
Aboard Red Dwarf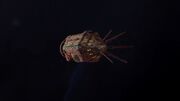 Aboard Red Dwarf, Dave Lister, the last human in the Galaxy, has entered into a depression. He is eating several unhealthy meals at midnight followed by beer milkshakes, and drinking much more than his usual half a leopard lager brewery throughout the day. Piles of empty bottles are reaching to the ceiling. Lister has also taken to distracting himself by hoarding gigantic piles of useless junk, antique salvage he calls it, in the sleeping quarters which he has found in Cargo Bay 15. These include "Rocking Dad" CDs, Knitting for Beginners, boy band badges, Subbuteo table football Partick Thistle Away Kit, and a Swedish massage chair without batteries.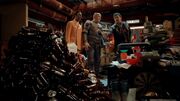 As Lister enters into the bunkroom with another trolley full of junk, singing the "Om" song to himself, Kryten and Cat follow and attempt an intervention. Cat asks what has happened to him and calls him a wreck. As Lister opens a bottle on the lines of Kryten's head, Kryten sympathises with the stress Lister is under and having the responsibility of carrying on the human race. Kryten suggests a radical way solving Lister's dilemma: Kryten can perform sex changes using some tech they have picked up from a derelict, Delta VII. Kryten suggests that they use the tech to turn Cat into a woman, so that Lister and Cat can mate and produce some offspring. Kryten says that it will involve a lot of folding, which he should be good at since he is so good at folding sheets. Lister refuses, and the proposal causes an argument between Lister and Cat as to who would make a more attractive woman.
Arnold Rimmer orders that Kryten come to the science room to look at some distortion in space, overriding Kryten's requests to put himself in for an overdue service. Kryten deliberately misinterprets Rimmer's command to follow him, instead following him in the style of a private-eye and hiding, but he is seen by Rimmer. In the science room, Kryten deduces that the distortion is actually a distress signal. Rimmer, as usual, is scared, saying that it is probably genetically-engineered, man-eating cheese luring them into a trap. Rimmer commands that Kryten ignore the signal, since they are all too old to go adventuring nowadays, but Kryten refuses, stating that Space Corps Directives bind them to assist fellow space travellers in need of help. Rimmer orders that Kryten erase his memory of it, which Kryten does, but Kryten finds the signal again. Rimmer orders him to erase his memory again, but Kryten then finds the signal again, and this repeats itself a number of times.
Holly Resurrected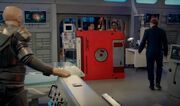 They are interrupted by Lister and Cat, who walk in holding a huge floppy disc; in among the clutter Lister has brought up from cargo bay 15, they have found Holly's backup disc. The ship computer, Holly, has been offline for decades after his databanks suffered water damage. They plug in the backup disc and reinstall Holly; however Holly is returned to default settings, and has therefore lost all of his memories and the unique personality he has previously developed.
The Dwarfers explain to Holly that three million years have passed since they left Earth's Solar System, and a radiation leak had killed the rest of the crew. Holly doesn't recognise Kryten and Cat as registered crewmembers, and recognises Lister and Rimmer as the lowest ranking crewmembers. However, Rimmer doesn't count, since he is dead, and Lister can also be discounted due to him previously smuggling an unquarantined animal aboard the ship. Holly quickly decides that the mission of the ship can no longer be fulfilled and as per Space Corps Directives, Red Dwarf should be decommissioned as a redundant ship. Holly will set a course for the nearest Black Hole and launch the Engine Core into it. Holly gives them a week to put their affairs in order.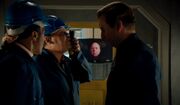 The Dwarfers attempt to prove that they can be useful, and begin doing odd jobs around the ship; even Cat gets his overalls and a hard hat on. However, Holly cannot be convinced to spare the ship. The Dwarfers gather into an airlock to have a discussion outside of Holly's supervision field and where he cannot overhear them. They also cover their mouths so that Holly cannot lip-read them. However, as they plot against Holly they fail to realise that they are unwittingly transmitting their conversation across the ship, while Holly looks on in annoyance.
Their scheming unveiled, the Dwarfers begin to openly mock Holly, since Kryten is momentarily due to explode the asteroid in the mineral ore storage bay causing an electromagnetic pulse which will disable Holly. However, Kryten then walks by with a mop, winking at the others saying "tonight is the night". The Dwarfers realise that Kryten misunderstood the timing and thought to set the asteroid detonation for midnight (12am), when Lister meant to detonate it at noon (12pm). Now fully exasperated with them, Holly tells them that he has safely sealed off the asteroid, and that their seven day deadline to evacuate is now reduced to seven minutes.
Aboard Iron Star
The Dwarfers are forced to run down to the hangars and flee in Starbug 19. After escaping from Red Dwarf, the Dwarfers resolve to find a new home. With nothing in the Galactic vicinity, Kryten suggests that they search for the ship which was emitting a distress signal. Lister stays positive, saying they'll find it in no time. Three months later and they still haven't found anything, with Lister and Cat having grown long hair and beards.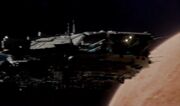 Starbug 19 then comes across a massive derelict space station, Iron Star, which still has power and is still in orbit around a small desert planetoid. Kryten uses the Psi-Scan to run some internal scans, and is excited to tell the others that the station is loaded with advanced technology since it was constructed several centuries after Red Dwarf. Lister presumes that this place could be their new home, and Kryten resolves to download the floor plan and show them around. They dock with Iron Star and Lister and Cat don space suits to explore the interior, while Kryten acts as estate agent and in typical cowardly fashion Rimmer stays behind to monitor them from the safety of Starbug. Rimmer quotes Space Corps Directive 76239, which he states that "derelict ships must be deemed safe before senior officers venture aboard", but Kryten remembers as "extreme caution should be taken on the naturist deck when peeling carrots".
Deeming that the atmosphere is safe to breathe, Lister and Cat remove their helmets. As they continue their exploration, they find a chamber which Kryten ascertains is the Hologram Projection Suite of Iron Star. Kryten discovers that it is much more advanced then the HPS aboard Red Dwarf, which could only maintain one hologram at a time; Iron Star can maintain multiple holograms at a time. When Kryten also discovers that the holograms aboard Iron Star are composed of a type of quantum energy called "diamond light" which would enable unimaginable powers, including manipulation of light and matter. Upon hearing this, Rimmer leaves the 'bug and runs to join the others.
While Rimmer and Kryten examine the hologram technology further, Lister and Cat muse over some 'smart cutlery' which creates a forcefield around meat, that had been designed to ensure vegetarianism in the crew of Iron Star. Lister, a dedicated curry-aholic, says that he prefers his cutlery stupid.
Rimmer is obsessed with improving his light bee, and although Kryten suggests taking the hologram tech back to Starbug and running further tests before giving Rimmer an upgrade. Rimmer, impatient, says that he is not willing to wait for Kryten to perform some 'namby-pamby European Space Agency safety tests', and 'going before a committee of grey-suited meddling bureau-droids and answer questions of where I'm most likely to find a croissant'. Kryten pleads for more time to evaluate the safety of the tech, but Rimmer orders Kryten to perform the upgrade nonetheless.
Rimmer deactivates himself, Lister puts Rimmer's light bee into the diamond light projector and starts it up. It fills with glowing yellow energy and Rimmer reappears, albeit in his soft-light, Second Technician uniform from the early days. Rimmer asks as to why this is, and Kryten supposes that it is just going through the gears.
Finally, Rimmer appears in his diamond light form; he is now tanned and muscular, with a Superman-style haircut and is wearing a grey bodysuit with glowing shoes. Rimmer says that he feels incredible, and begins to experiment with his powers; he can now phase between a solid state and a noncorporeal state, and can also do this to objects he touches, demonstrating this with some equipment he picks up. As heroic music plays, Rimmer then becomes a ball of light and begins to zip around Iron Star at fantastic speeds. Rimmer then reappears in front of his crewmates and suggests that he needs a new name to match his newfound powers. He muses on 'Glitter Guy', then decides he needs something better, and decides on 'The Mighty Light'.
The heroic music then suddenly stops and Rimmer disappears as his light bee falls powerless to the corridor floor. Lister goes over to pick up Rimmer's light bee, quipping that Rimmer should instead be called 'The Shitey Sprite'. The gang move back onto the Science Room where the hologram projector is. As Cat laughs, Kryten reboots Rimmer back up as hard-light hologram and Rimmer asks what happened. Kryten explains that, since they skipped the European Space Agency safety checks, the power surge has fried Rimmer's battery. His light bee can no longer hold any charge, and the only way Rimmer can keep himself online is by rigging his light bee up to an external power source. To his dismay, Rimmer notices that Lister is plugging a wire from Rimmer's light bee into a wall socket, quipping that Rimmer has gone from 'Glitter Guy to the Cable Kid'. Cat says that is not getting his hopes up that Rimmer will forget to plug himself in. Rimmer threatens to put Kryten on report for 'listening to him' and obeying his orders.
The gang then decide to further explore the ship, with Cat wanting to know if Iron Star will be suitable for them to move in. Rimmer joins the others, but is forced to repeatedly plug himself into extension cables to keep moving around the ship, angrily pointing out that he is acting senior officer and an electric hedge trimmer.
Meeting the Cat Priests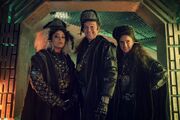 As the gang explore deeper into Iron Star, Lister wondering if they have already passed that way opens a door to a storage cupboard. Inside, he sees three Felis sapiens cowering among the boxes. At first this does not register and Lister apologises for intruding. Lister closes the door and looks at the astounded faces of his cremates, and it then sinks in what he has just seen. Lister reopens the door, and the three cats look upon Lister's figure bathed in light filtering down from an overhead gantry, and they immediately begin to prostrate themselves before him, declaring him to be a perfect likeness of their deity Cloister.
They explain that they are Brother Sol, Sister Luna and Sister Peanut (the same three fugitives in the prologue) and they are cat priests in the order which worship Cloister. They tell the Dwarfers that they a tyrant, Rodon, outlawed Cloister worship on pain of death, and that they fled their own execution. They are now hiding from the ferals aboard Iron Star, as the ferals presumably hunt for them in the Cat Fleet.
Lister tells the Cat Priests that he is not Cloister, that is a nobody, and asks his crewmates to back him up, which they do enthusiastically, saying that Lister is indeed an absolute zero. The Cat Priests refuse to believe that Lister is not Cloister, and instead that he must be either just being humble or testing them. Sister Luna says that she has ate three vindaloos a day in order to 'purge evil', as it instructs in the Book of Smeg. They burst into song, extolling 'Listy Listy' and dance their way into the corridor playing musical instruments.
The Cat Priests give Lister a powerful artefact made of serendibite which they stole from Rodon, the Anubis Stone, which they believe is destined to be used by Cloister to vanquish evil-doers and lead the cat race to their promised land, Fuchal. Kryten scans it with a psi-scan but deduces that it is fact varnished beetle dung. As the Cat Priests await 'the sermon in the corridor', Lister is resolved to convince them that he is not their god, but Kryten advises him against this, since it will break their hearts and souls.
First Encounter with the Ferals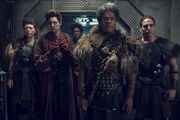 Kryten detects a teleportation energy signature coming from the Science Room they were in earlier, which Rimmer deduces looks like a boarding party about to beam in, and he advises fleeing. Lister tells the afraid Cat Priests that he will protect them, and the group move on to the location to confront the newcomers. As the group enter, Rodon, his second-in-command Count Ludo and a group of feral henchmen materialise. Rodon introduces himself as the Feral King, and shows anger that the Dwarfers have been sheltering the runaway clerics, especially towards Cat, who he calls a traitor. Rodon threatens the Dwarfers with execution if they do not immediately give up the runaway clerics and the Anubis Stone, and says he will offer up their bloody corpses as a gift to the cat people. Cat suggests a pampering bath and candle set instead, and wonders why Rodon doesn't immediately like him.
Sister Luna warns Rodon that Lister is Cloister, but Rodon denounces Cloister as a false god, who has brought nothing but division, war and death, and resolves to kill Lister to strengthen his position. He orders Count Ludo to retrieve the Anubis Stone, which he is reluctant to do, but his fear of Rodon wins out. Seeing that Cloister's wrath is not vented, Luna gives up the Anubis Stone, and Ludo returns it to Rodon.
Rodon orders two of his guards, a male and female feral, to stay behind and execute the Dwarfers and the Cat Priests. Rodon orders this be done by flushing them out of an airlock, so that all the Cat Fleet can see the consequences of questioning his authority. Rodon and Count Ludo then teleport back to the Cat Fleet. The guards then approach with claws drawn. The Dwarfers attempt to put up some resistance, defending themselves with the vegetarian forks, and using lettuce taken from the cleric's packed lunches to get through the forcefields the forks generate. However, all this does is buy them some time, and they are subdued when the ferals pull out and charge up their energy guns. As the ferals lead the Dwarfers and the Cat Priests down a corridor to an airlock, Rimmer is captured when the female feral steps on his extension cable.
Back aboard his flagship, Rodon grows impatient, and thinking that the henchmen may have failed, orders Count Ludo to fire meow missiles at Iron Star. Ludo protests since some of their party are still aboard, but Rodon tells Ludo to send fish to their mamas, and shouts at him to launch the missiles immediately. Back aboard Iron star, the Dwarfers are Cat Clerics are in the airlock about to be flushed, with Brother Sol stating his belief that it is all a test in their faith. Ironically, they are saved by the airlock when the first meow missile hits and the station is rocked by an explosion. Brother Sol, on seeing the feral guards fall to their deaths as the corridor floor disintegrates, declares this to be a result of the divine wrath of Cloister. The gang then hack the airlock and use it as an elevator to take them to the hangar where Starbug awaits.
Crash Landing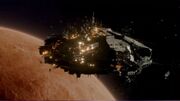 More explosions rock Iron Star and it begins to rapidly disintegrate in a ship quake. The Dwarfers and the Cat Clerics race to the hangar through falling debris. They get aboard Starbug, with the Dwarfers taking their place in the cockpit. With only moments of charge left, Rimmer plugs a cable from his light bee into his console with relief. The Cat Clerics strap themselves into chairs in the mid-section. Lister fires up the engine and Cat fires up the retros, and the 'bug flies out the hangar as it explodes in flames around them. Starbug just flies clear of Iron Star as it is entirely destroyed.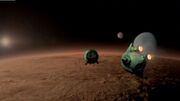 Unfortunately, the debris field is too dense to navigate, with Starbug taking a direct hit on its rear section, which then sets on fire. With their stern about to explode, Lister uncouples the rear module and separates it. Rimmer then angrily questions how they are going to fly Starbug when the engines and thrusters are in the part Lister just ejected, and suggests that maybe Lister should have used a fire extinguisher instead. Rimmer asks what their current flight path is, and Kryten tells him it is down. He asks him to be more specific, and Kryten says straight down, into the desert moon below them. The atmosphere is too thin to slow down their descent.
The Dwarfers ask each other what their next course of action should be, with all of them being unsure. Kryten proves that he doesn't always know everything, and Cat accuses Lister of not being the hot-shot astro he makes out to be; Rimmer quips that is the predictive text misspelling of what Lister is. Lister then suggests that they consult the owner's manual, which is under Cat's console, next to the service history and the MOT. Cat finds the Starbug Operator's Manual and tosses it to Kryten, who is fascinated to read about the pinch-to-zoom features on the digital displays.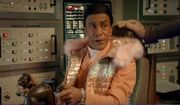 Finding the section on emergency landings, Kryten learns that the 'bug has an emergency parachute. Kryten attempts to launch it but it fails to deploy, and Kryten realises that it is already gone. Cat then reveals that he previously found 'big shiny fluffy pieces of material with coloured stripes', removed the emergency parachute and turned it into the silky puffa jacket and mittens he is currently wearing. Kryten angrily asks Cat if he has a new jacket made from their ejector seats. Luckily, the 'bug has two emergency parachutes, and Cat never wears two outfits the same.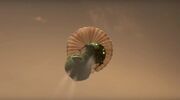 The second parachute successfully deployed, they use the retro boosters to attempt to further slow their fall. This saves the 'bug, but it still hits the ground with some force, causing a number of fuses to short and fires to start in the cockpit. The crew get the fires under control with extinguishers. Their lives saved, Kryten asks permission to go to 'apeshit mode', which Lister grants. After a round of whooping and cheering, they then do an inventory check and realise that they have no food, water or fuel.
Part 2
Marooned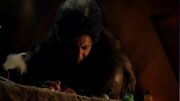 Rodon's flagship breaks formation from the rest of the Cat Fleet and enters the atmosphere of the desert moon. Aboard in the throne room, a clearly concerned Rodon sits atop a table, knocking cat toys off with his claws. Count Ludo enters with the bad news that Starbug appears to have escaped the destruction of the Iron Star. Furthermore, the Anubis Stone they acquired appears to be a fake; it is merely varnished beetle dung. Rodon, increasingly agitated, orders the humans found and killed, and the real Anubis Stone recovered from them. Ludo informs his alpha that they are already underway, and has some guards bring in a fresh, massively oversized scratching post to placate the tyrant. When left alone, Rodon begins clawing at the post, which soothes him.
Down on the planetoid surface, inside the remains of Starbug, Rimmer continues to blame and berate Lister for their predicament. Lister replies that he has a knack for getting out of bad situations, using the radiation leak aboard Red Dwarf as an example. Rimmer says that it killed him, but Lister retorts that he was fine, proving his point.
They are soon joined in the cockpit by the three Cat Clerics, Sol, Luna and Peanut, who continue to heap praise upon Lister, congratulating him on a fine landing. Luna asks what the next plan of the 'Holy Poppadum' is, and what miracle is going to conjure up to get them to the Promised Land. Lister says that he is just waiting to think up of something truly special, and asks them if there is anything else. The Clerics then begin to question some of his decisions as a God. Luna asks why he made childbirth hurt, and babies cry at night instead of during the day when everybody is awake. Sol asks why we have to bathe, and if it wouldn't be easier to make everybody non-stick. Peanut asks why we can't turn our heads 360 degrees, since that would have made reversing a bit easier. Luna asks if he run out of time when making male genitals. Lister says that he will answer their questions when isn't so busy trying to save them, and they retire to the mid-section.
Kryten comes up with an idea; if some of Iron Star has also crashed, they may be able to salvage materials or technology that could enable them to get off the planetoid. Cat recalls that Iron Star had working teleporters, and so the gang resolve to find debris from the space station.
As the Dwarfers work on repairing the consoles in the cockpit, they can overhear the Cat Clerics in the mid-section singing praises to Lister and dancing. Lister resolves to letting them know that he isn't a God. Kryten warns that it will cause them to lose their faith. However, Lister cannot bear to keep lying, although he also cannot bring himself to tell them the truth itself. Lister asks Kryten to tell them, since Lister had previously taught Kryten how to break his own programming, and therefore Kryten knows the importance of individuality and self reliance. Kryten goes into the mid-section and immediately breaks down, unable to tell them the truth, and emotionally telling the cats how much he loves and adores Lister.
Cat then goes into the mid-section for a talk, cat-to-cat. He tells the clerics that Lister is not a god, and is fact a nobody. They dispute this, stating the fact that Lister voluntarily went into stasis to save Frankenstein, thereby creating the Felis sapiens species. They point out that Lister is the very reason why Cat is alive. Finally, Peanut states that she was a mute, but could suddenly speak upon meeting Lister, and therefore he must be capable of working miracles. Cat then begins mulling this over. Shortly after, Lister looks through the bulkhead porthole to see Cat has joined the clerics in singing the 'Listy Listy' song praise of praise.
Feeling despair that Cat has been converted, Lister bemoans that nobody can criticise him. Rimmer then stands up with a smug grin, proclaiming "Cometh the hour, Cometh the Man". Rimmer tells the others that has qualified in a course in bad news breaking, and reminisces that he once had to tell a man coming out of a coma that the medical team had not been able to find his penis, although his dog had.
Desert Chase
At that moment, the ground is shaken as a massive piece of Iron Star lands a short distance from Starbug. Both crew and the cats congregate back in the 'bug cockpit to observe it. The cats proclaim to this be a miracle of Lister's doing, but Rimmer disputes this, especially since it is rolling towards them at 1000mph. Fortunately, it rolls over a hill and flies just over the 'bug. The gang recognise the debris as being part of the station which contained the bridge, and may well contain teleporters.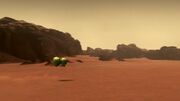 Kryten continues to consult the Starbug Operator's Manual, and learns that the landing retros can swivel to make a form of makeshift hovercraft with the front and mid-section. Rimmer points out that they don't have any fuel, but Kryten counters that the 'bug is a hybrid, and they can use electric. Lister tells the cats to go and strap themselves back in, and initiates the hovercraft mode. The plan works, and Starbug begins to quietly hover along the desert in the direction of where Iron Star debris went.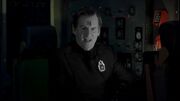 Kryten tells the others the 'bug has a battery charge of 57%, and since they don't know how long their journey is going to be, they should conserve power by going to economy mode. Rimmer berates Lister that somebody with a brain larger than a pea is now coming up with a plan. Kryten explains that eco mode will mean turning off non-essential lights, the air-conditioning, the seat warmers, and their hologram. Cat argues that the seat warmers are the most essential, since the desert gets cold at night. Rimmer is of course horrified, but Kryten says that they can keep him going in low-power mode. Rimmer moans at this since he means his vision is low definition, he can only hear and speak in mono, and he is projected in only black-and-white, even appearing all 'snowy' if there is any interference.
Rimmer is put into low-power mode, much to his dismay. Cat says that Rimmer's new black-and-white appearance and the low-quality mono sound of his voice reminds him that Rimmer is actually dead and not really there. Lister tries to signal Cat to not say anything further about this, but Cat continues, saying that it creepy, since it brings it home that Rimmer doesn't actually exist. In response to this Rimmer, quotes René Descartes by saying "I think, therefore I am," although he completely butchers the quote. If he is sentient and has conscious, independent thought, then he does exist. Cat retorts that Rimmer doesn't think, since the computer in his light bee does all his thinking for him, and therefore there is no 'him' to think at all. This causes Rimmer to become despondent and melancholy as he ponders on his own individuality, free will and very existence. He says that he never thought it about it that way, and Cat retorts that he isn't, it's the computer not thinking it for him. Lister sneers at Cat for putting Rimmer is an existential crisis mode, and Kryten berates Cat for the added power drain Rimmer's anxiety is causing on the Starbug batteries.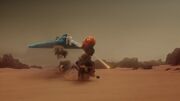 Suddenly a meowing noise from outside Starbug, growing rapidly louder and finished with by a nearby explosion which blasts the desert floor and rocks Starbug. Lister checks the scan, and sees that Rodon's flagship is bearing down on their location. Kryten confirms from the heat signature that it is one ship, approaching from their six 'o clock. Aboard the flagship, Rodon orders everything they have to be fired, and moments after meow missiles are raining down around Starbug. The 'bug moves in a zig-zag motion, barely missing each explosion. They go flat-out, full-power, but it is only a matter of time before Starbug takes a fatal hit.
As Starbug continues to evade the missiles, Lister suggests opening the sunroof, but Rimmer says that he has forgotten his surrender flag. Lister throws a bazookoid to Cat and tells him to start blasting out of the emergency escape hatch. Rimmer then notices more trouble coming from their port side, and Kryten confirms that it is a massive dust storm- a 4.9 on the Stanley sandstorm scale. It is three miles high, sixty miles wide, and blowing in at a hurricane pace. However, Lister then notices another sandstorm coming in from the starboard side which is even bigger, and is a 6.3 on the Stanley scale.
The gang ponder over whether this is two separate sandstorms, or two fronts of the same sandstorm. Kryten says that the only cover from the sandstorm is the debris from Iron Star, but they will not reach it in time. Lister suggests that they enter the nearest stormfront to hide from the feral flagship, but Rimmer is worried that the 'bug cannot withstand the forces within. Kryten says that it should be possible, with only the front exterior panels needing to be replaced afterwards, and Rimmer orders Lister to enter the storm.
Starbug then does a hard left to port and enters the sandstorm, just before the ferals get a successful missile lock-on. The ferals then retreat from the sandstorm, losing their prey.
Rimmer's Purpose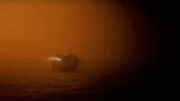 Some time later, and Starbug lies still on the desert ground amidst the howling sandstorm. The winds are hurricane force, and visibility is almost zero.
Inside, Lister and Rimmer are alone in the dimly-lit cockpit. Lister says that they just have to wait for the storm to blow over, and Rimmer says that it could be days. Rimmer ponders aloud whether he is doing the right thing, hanging on and draining the Starbug batteries. Lister says that it he powered down, he would be dead, but Rimmer counters that he already is dead. Rimmer asks Lister why he is here, and what is the point of him. He states that he was only brought back by Holly to keep Lister sane, and Holly chose Rimmer since he was diametrically opposite to Lister. Rimmer says that he doesn't fit in, and that nobody on Red Dwarf likes him. Lister tries to cheer Rimmer up, saying that the skutter on B Deck likes him. Rimmer counters that this particular skutter is mental, and eats shoes. Lister then says that the dispenser on C Deck. Rimmer counters that it is faulty, it leaks, and it likes everyone.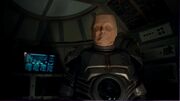 Lister then lies, saying that Kryten likes and even admires Rimmer. Rimmer counters that it not true, that Kryten thinks that he is a petty-minded, bueractatic, power-hungry control freak. Lister doubles down on the lie, but just at that moment, Kryten walks into the cockpit with a hot drink for Lister, and tells him not to ask where Kryten got it from, since it will taste better that way. Rimmer asks Kryten if he admires him, and Kryten freezes with a horrified expression on his face. Lister tries to lie, saying that he saw Kryten slightly nod. Rimmer asks Kryten again, and Lister tries to get Kryten to lie. Kryten begins to creak and groan, before unwittingly performing a reset. Kryten then pulls his head up, and asks to be excused so that he can change his head, since he has just ruined the one he is wearing.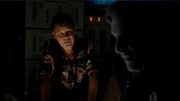 After Kryten leaves, Rimmer ever more despondent pulls the power cable from his light bee, stands up and asks Lister to give him one reason to plug himself back in. With Rimmer only having minutes left, Lister says that they need him, "We're the boys from the Dwarf," doing he Red Dwarf shuffle, and Lister needs him. Rimmer asks why. Lister says to bounce off, ideas and stuff. Rimmer says that he doesn't need him, and he's not sure he ever did, and therefore what is the point of him?
Lister turns around, exasperated, unsure what to say next, and absently looking at a digital readout on a wall monitor. It's a JMC screensaver of a pale moon, and it gives Lister a spark of inspiration. He turns to Rimmer and tells him what the point of him is, using an analogy of a moon. A moon cannot make light, yet there is such a thing as moonlight. Rimmer says that it is just sunlight reflected on a moon from a sun. Lister counters that yes, that's right, but the sun can't make moonlight without the moon, and the moon can't make moonlight without the sun. So who is making the moonlight? Rimmer says they both are. Lister says that even though a moon can't make light, moonlight still exists, "Like you, smeghead".
Lister then leaves Rimmer alone in the cockpit in deep thought. Lister looks through the bulkhead porthole to see Rimmer plugging himself back in, and Lister walks off smiling.
Buried
The Dwarfers are asleep in their chairs in the Starbug cockpit. Lister has an old blanket over him, and Cat has a "cat face" sleep mask over his eyes with his tongue out. Kryten enters to wake them and wish them good morning. Upon waking, Lister takes a drink from last nights half-empty can of leopard lager, and says that they should crack on with finding Iron Star debris and potential teleporter. Kryten rather matter-of-factly states that won't be possible, since they are buried alive. Cat becomes very fearful, and asks if anyone has been outside to check. Rimmer points out how ridiculous that question is.

Lister says that if they are only buried under only a few feet of sand, they may be able to force open the escape hatch. However, Kryten says that is not possible, and asks permission to perform some reconnaissance. Kryten extends a drill bit from his middle finger, and with it drills a small hole in the cockpit ceiling and through the hull. Kryten then extends a long telescoping antenna, puts one of his spare eyes on the end of it, and pushes it up through the hole. At the surface, Kryten's eye peeks out over the endless, bleak desert under the light of dawn.
A minute later Kryten reports his findings to the others. He says that they are in the desert, no question about it. Rimmer calls him "botched-botox-injection head" and demands he go into more detail. Kryten continues with the news that there is no sign of Iron Star debris on the horizon, so it must be at least three miles away. Even worse, Starbug is buried under several feet of sand, which means that the weight of it will be too heavy for them to dislodge from within.
Sol enters the cockpit and enquires as to when Lister is going to perform his next 'miracle', as the cat priests are due their next nap and don't want to go to sleep and miss anything. Lister dejectedly ahead and tells him that no miracles are planned for the near future, so he should go back to the mid-section and sleep. Sol leaves, and Lister bemoans the fact he has to pretend to be their deity. Kryten says that the random act of kindness, saving Frankenstein, was something nobody else in the cockpit would have done, and it not only saved his life, but created an entire new species. Lister says that it is still a title he doesn't want; entire wars have been fought in his name. Kryten says that unfortunately happens to gods.
Rimmer says that they are such a bad situation, they should have stayed aboard Red Dwarf and taken their chances with Holly. This gives Rimmer a spark of inspiration, and he orders Kryten to stick his antenna back through the hole in the ceiling. Cat tells Kryten not to listen to "Hammond Organ FM" at a time like this. Rimmer again orders Kryten to do it, and attempt to contact Red Dwarf and relay Holly to their monitor screen. Kryten's antenna sticks through the sand and tries a connection with Red Dwarf. Fortunately, it appears as though Holly has been following them, since Red Dwarf is indeed close by. After a few moments of static, Holly's face appears on the monitor.
Rimmer asks Holly if he is reading them, and Holly, clearly still at factory settings and referring to him as Hologram Rimmer, confirms that he is. Rimmer suggests that Holly transfer the original Holly's last saved backup file onto his CPU, and Holly asks why he would want to do that. Rimmer replies that he will inherit everything the old Holly had acquired over the three million years he was alone in Deep Space. Holly says that he will become as 'brilliant' as he must have been, an 'intellectual colossus'. The Dwarfers all pull a face and go silent, except for Rimmer, who tells Holly this is correct. Holly says that he accepts Rimmer's suggestion, and begins downloading the backup. Going blank for a few moments, Lister says that Holly is once again going to become "crazier than a dog which just got bathed". Rimmer counters that if Holly goes back to his original self, he will remember who they are, and he will help them.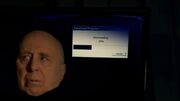 As Holly downloads the backup files, he shows visible confusion, and says that he is beginning to 'feel a bit funny'. Once the download is complete, he then asks the Dwarfers "What's happening, dudes?", proving that his old personality is back to a round of cheers from the crew. Lister explains their situation, and asks for advice. Holly suggests opening a door. Rimmer reiterates that they are buried alive under the desert. Holly says that he is going to run some analysis and potential scenarios, which will take some time, and he will return when he's done it. He then immediately says that he has done it.
Holly says that they only way he can save them is by firing one of the Red Dwarf thermonuclear mining torpedoes at the desert moon, blowing it to smithereens. If he gets the the calculations right, Starbug should survive the explosion and be thrown free in he blast. Lister asks if that is safe, and Holly says yes, he is miles away so he will be fine. Lister tells Holly to not do anything crazy, but Holly says it's a bit late, as he has already fired off the torpedo. With impact in less than sixty seconds, Holly tells them not to be concerned, and that nothing can go wrong. He's done all the relevant computational analysis, taking into consideration the exact point of impact, depth of explosion, weight of the ship, texture of the desert, moon's gravity, but then the torpedo misses the moon entirely. Holly blames the nine times table, since that one has never been his favourite. Holly fires off another torpedo, and Rimmer asks if this one will work. Holly says that at least this one will definitely hit the moon, and so at least it will not be as embarrassing as the last one.
The torpedo arcs around the moon, detonating a massive explosion at the pole, which blasts right through the centre of the moon and exiting at the other pole. Starbug, under the desert at the equator and further from the blasts, is thrown free not only of the surface and but also orbit. The moon then rapidly disintegrates at their former location, and then entirely. Amazingly, Holly's plan has worked. The husk of Starbug now drifts lifelessly along with planetary debris, although inside, the shock dampeners have held out enough to keep the occupants alive. The debris from the moon bangs and crashes alongside the hull, but the pieces are too small to do structural damage.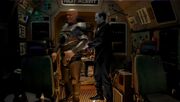 Holly checks in to see if they are all still alive, and they confirm that they are, much to Holly's surprise that his plan actually worked. Sol runs into the cockpit to congratulate Lister on his newest 'miracle'. Holly asks if there is anything else he can help with, and Lister replies that he can get them back on Red Dwarf. Holly says that he will come and pick them up. Soon enough, they make visual contact with their mothership through the viewscreen. As Lister and Cat go and join the cat priests in a celebration, Kryten offers to share his own personal battery with Rimmer to keep his light bee going, until they can get Rimmer a permanent power source aboard Red Dwarf. Rimmer then begrudgingly plugs his cable into the back of Kryten.
Revelations
Back aboard Red Dwarf, the Dwarfers along with the cat priests exit the hangar and walk down the corridors on G Deck. Lister suggests that they get Red Dwarf the hell out of there before the feral cats back turn up. At that moment, Rodon, Ludo and a host of armed ferals ambush them, energy weapons pointed at the Dwarfers. Lister, in shock, asks Holly why he didn't tell them that the ferals had boarded Red Dwarf, and questions if they have been holding him hostage. Holly says that, no, he just forgot to mention it.
Luna walks over to Rodon, saying that the is an enemy to Felis sapiens, and that the scriptures prophesise that he will be defeated. Rodon grabs hold of her, extending his claws to her neck, and asking if she wants the scriptures tested. Luna says that she may have missed some small print. Rodon tells Lister to give up the real Anubis Stone, or watch Luna die. Lister says that he doesn't know where it is. Rodon counters that if he is Cloister, should he not know everything? And if he isn't Cloister, then who is he?
Lister admits that, although he is responsible for creating their species, it was ultimately an accident; he is no god and Cloister does not exist. Lister turns to the cat priests and says that he is just a chicken soup dispensing machine repairman. Lister admits that he was subordinate to even Rimmer, and Rimmer says that Lister was only in charge of pushing the trolley and the pipe cleaners.
Luna asks how Lister performed the miracles they have seen: the ship quake swallowing the feral guards, Iron Star debris landing in the desert, Starbug being buried and then being thrown free. Lister puts all these down to coincidence, flukes or science. Sol asks the other Dwarfers is they are really Lister's disciples, and they all shout 'NO!'. Sol says that they are just a ship of fools, and they all shout 'YES!". Sol replies that no, the only fools are the cat priests, having fully lost his faith now. Peanut asks how Lister granted her the power of speech, when she was mute before, but Lister says that he thinks with her, it is just psychosomatic, and it was her belief that gave her speech. As if to prove Lister's point, Peanut suddenly finds herself once again unable to speak.
Rodon tells the cat priests that they have wasted their lives chasing a false prophet, and a stone made of beetle dung. He pushes Luna back to the other group, and throws the Anubis Stone to Lister. Rodon then turns his back, saying to his lieutenant Ludo that they are leaving. Ludo then asks Rodon what they are going to do about his brother, pointing to Cat.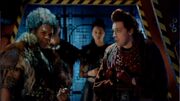 Rodon turns back around and looks on with incredulity, asking if the 'little pink furry shag bandit' is really his brother. Ludo says that they've checked the records and confirmed that Rodon and Cat are brothers. Rodon says this is impossible, since Cat is clearly older than Rodon, but Rodon's brother was younger than him. Cat replies that isn't a king like Rodon, and he has led a hard life, and the worry has aged him prematurely. One time, he almost had to work.
Lister asks Rodon why Cat was left behind when the rest of the cats fled Red Dwarf in the Cat Arks. Rodon replies that they left all the uncool ones behind, and Rimmer laughs at the fact that Cat was once uncool. Rodon says that Cat had crazy teeth, mad hair. There was no place for him, so he was left behind. Cat responds that on that day, he vowed to never be called uncool again, and he has been cool ever since. Except that one time on Backwards World, which he will not mention further... Rodon asks how Cat feels now, finally calling him brother, and offering him a place with him and their people.
Cat looks at the other Dwarfers, and back to Rodon, and says that Red Dwarf is his home.
Final Confrontation
In response to Cat's rejection, Rodon orders Ludo to set up a bomb powerful enough to blow Red Dwarf and everything on it to Hell and back. Cat says that he wishes Rodon had told him this before he made his decision.
Ludo warns Rodon against this course of action, saying that the Dwarfers may have time to escape, and advises him to kill the Dwarfers immediately. Rodon replies that the clowder aboard the Cat Fleet must witness their deaths, so that they realise that there is no Cloister, and no hope for ever finding Fuchal.
Rodon and Ludo teleport back to their flagship, and a group of feral guards round up the Dwarfers and the priests and lead them down to the Science Room. Along the way, they pass a feral setting up a large bomb in the corridor by a porthole window, and beginning the timer countdown at five minutes. Once led to the Science Room, the ferals also beam out.
At this worse possible moment, a warning bleeper begins sounding off inside Kryten, and Rimmer fearfully asks him if that is signalling that his battery is extremely low. Kryten argues that he has been stand-in science officer for many years, and would not endanger their lives by not having enough charge to see them safely through any possible crisis. Just as Kryten his finishing this sentence, he powers down. Rimmer sarcastically thanks the now unresponsive Kryten. Lister points out to Rimmer that this means that he too only has a few minutes left, since Kryten's battery was keeping Rimmer's light bee going.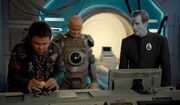 As Holly counts down to the bomb explosion, the cat priests beg Lister to perform one more miracle, or even something 'science-y' would be acceptable at this point. Rimmer says to Lister, referring to himself, that there is a moon that wouldn't mind some sunlight. Lister tries to think of a solution, and remembering Kryten's words from earlier about Anubis being the god of embalming, and wonders aloud why you would embalm something, to preserve it? Something inside that you thought was precious? Lister then takes the Anubis Stone out of his pocket, and smashes it on the console desk a few times. It cracks, and with a buzzing and whooshing noise coming from inside, Lister pulls away the outer shell to reveal a glowing yellow gem, carved with mystical markings and crackling with power. Kryten had been right; it is composed of serendibite. The consoles and monitors are all affected by its radiating power, showing extreme interference.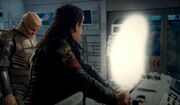 Lister pulls out the power cables from Kryten, and puts bare wires from it directly onto the Anubis Stone. This works and it draws power from the Anubis Stone, straight into Rimmer's light bee and supercharges him. Rimmer begins to quickly switch between black-and-white and colour, and then in flash of white light finds himself as a diamond-light hologram again. Lister, smiling and referring to Rimmer as "The Mighty Light", tells him to go and get the bomb. Rimmer smiles back, and transforms himself into a ball of white light and flies off down the corridors.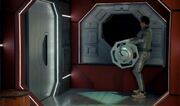 The Dwarfers and the cat priests chase after Rimmer, catching up to him just as he pulls the bomb from its housing. With only ten seconds remaining, Rimmer also transforms the bomb into an incorporeal ball of lights and flies out into space with it. The bomb detonates harmlessly over a nearby asteroid, and the Dwarfers and the cat priests watch the explosion from the porthole window. Believing Rimmer dead, and that he had given his life to save them, Cat shows a very rare moment of sentimentality: "I can't believe he's gone. I didn't like him, but I liked not liking him. Who am I gonna not like now? He's left such a hole." Cat then begins crying. At that moment, Rimmer appears behind them in a flash of light, and Rimmer says that he is already dead, and proud of it. Lister says that he is a smeghead by day, and a superhero at night.
Lister suggests the gang get a new Starbug from the hangar and hit the ferals before they hit them, and also bring Kryten along and charge him back up along the way. Rodon's flagship notices a new Starbug coming at them on an intercept course, and fires a meow missile at it, which narrowly misses as the 'bug evades it. In the Starbug cockpit, Rodon appears on the monitor, saying that a battle to the death will be interesting, since they are in an out-of-commission transport ship, and he is in a battle cruiser put together using the finest technology salvaged from derelicts the length and breadth of space.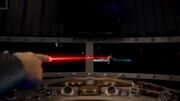 Now only four clicks away, Rodon asks them if they plan on playing chicken with him, since a collision with the much larger and newer vessel will rip Starbug apart. Lister replies that his own goons will tear Rodon apart first, turns to Rimmer and says that it's up to him. Rimmer fires a laser beam from his fingertip, though the Starbug viewscreen and straight onto Rodon's bridge. Rodon tells Ludo and then his bridge officers to fire everything at Starbug, but they are all too distracted by the laser beam to act.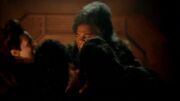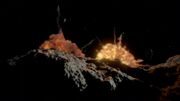 Ludo and the ferals are then driven into a frenzy by the point of light, and begin to claw at Rodon to get at it, despite Rodon's cries at them to stop. With no one at the helm, Rodon's flagship crashes into one of the asteroids in a massive fiery explosion.
New Beginnings
Lister tells Holly to take over Starbug and plot a course for the rest of the Cat Fleet, since they need to deliver the good news that their tyrant is dead, and also to take the priests home.
The gang then go into the mid-section to check on the progress of Kryten's recharging. However, it is not good news. The recharging is not working, and Kryten lies motionless. Holly explains that mechanoids need to be kept with at least some charge at all times, since if a mechanoid battery becomes fully drained, it can no longer retain a charge. Even worse, they have no replacement battery, either on Starbug or on Red Dwarf. For all intents and purposes, Kryten is essentially dead. Lister and Rimmer then realise that this is their fault, since they repeatedly put off Kryten's requests for a self-service.
Lister thinks of a solution, using the Anubis Stone as a new battery for Kryten. Rimmer protests, since this means he will lose all his superpowers, and his alter ego "The Mighty Light" will essentially dead. Lister says that all superheroes put the needs of others before themselves. Rimmer continues to complain about this for a short while, saying that he knew it was too good to last. After all there are other superheroes who put their own selfish needs first. What about the Fickle Four, who only save those wearing designer clothes? Or Doctor Dodgy, who first asks people to go behind a screen and remove their clothes?
With a sigh, Rimmer then begrudgingly concedes. He takes the Anubis Stone from Lister, kneading it in his hand to increase it's glow, and he then puts puts his hand into Kryten's chest monitor. Kryten's chest monitor begins to glow white, brighter and brighter, until Rimmer turns back into his usual hard-light self, and Kryten awakes and sits bolts upright. Kryten asks what is going on, and Rimmer says that he sacrificed himself and saved the day, while Kryten laid there doing nothing. How does he feel about that, Smart Alec? Kryten then corrects Rimmer on the spelling, since the phrase actually originates with Aleck Hoag.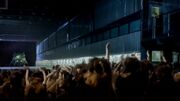 Starbug docks in the hangar of one of the Cat Fleet ships, to crowds of jubilant Felis sapiens. A group of them enter the 'bug and and joyously reunite with Sol, Luna and Peanut, just as the cat priests are finished saying their farewells to the Dwarfers. Lister asks them what they will do now, and where they will go, now that they know that Fuchal the promised land does not exist. Luna responds that Fuchal is not a planet or a physical destination, it's a place in the heart. It's an ideal of brotherhood and freedom, a philosophy for life.
Sol says that, as the scriptures predicted, the god of their people has brought them to their promised land. Lister is overwhelmed with pride and gratitude, but they then say thanks for introducing their god to them, and they turn to Rimmer. The three cat priests remove their hoods to show that they each have a little 'H' painted onto their foreheads, and they start singing a song of praise to Rimmer. Suddenly Peanut finds that she can speak again, and joins in the 'Rimsy Rimsy' song. Rimmer looks smugly up into space, and wonders aloud how good it look on his CV to be a god. Lister, cracking open a can of leopard lager, laughs at the ridiculousness of the situation.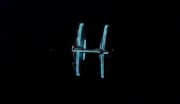 Starbug then departs for Red Dwarf. As the 'bug flies away from the Cat Fleet, the remaining four vessels of the Cat Fleet form a 'H' shape in honour of their new deity Rimmer, before also finally flying away.
Cast
Guest Cast
Deleted Scenes
Available on the UKTV Play on-demand steaming service
An extension to the opening scene in Rodon's throne room aboard the Cat Fleet. After Rodon sentences Sister Luna and Sister Peanut to be hanged in the market square for sedition against him, Count Ludo enters with Rodon's meal. Ludo asks Rodon if he would like to execute Brother Sol (who Rodon was just interrogating) before he dines. Rodon orders that all three Clerics be taken away and hung together. Sol is joyous and believes that his luck is changing since he is not being executed immediately in the throne room. Ludo then unveils Rodon's delicacy; he takes the metal Cloche dish cover off to reveal a tin of synthetic protein in jelly, flavoured as meat and fish. Ludo removes the tin lid and Rodon contentedly eats chunks out of the tin with his claws.
Extension to the scene in the science room aboard Red Dwarf when Kryten picks up the distress signal from the Iron Star and Rimmer fearfully orders Kryten to ignore the signal. Rimmer says that is is probably some pheromone-producing insectoids hell-bent on impregnating them with their parasitic offspring (a reference to the events of the Series XI episode "Can of Worms"). Kryten reminds Rimmer that it is their sworn duty to help fellow space travelers.
Extension after the newly re-uploaded Holly threatens to decommission Red Dwarf, launching the Engine Core and the Hologram Simulation Suite into a nearby Black Hole. Rimmer requests an appeal, to which Holly says that may take some time, which relieves Rimmer, but Holly says that this will be a total of ten seconds. Holly presents both sides of the argument to the mediation computer, which Lister points out is Holly himself, and Holly says that the mediation computer must remain anonymous for fear of reprisals. Holly then tells them their defense is putting up a robust appeal and that it looks good for them, then suddenly tells them that they have lost the appeal.
Extension to the scene where the Dwarfers are in the airlock talking about how to erase the newly uploaded Holly before he decommissions the ship. Rimmer suggests a "computer vasectomy", and Cat holds up some shears and says "snippety snip". Of course Holly can hear them, and looks on in mild annoyance.
An extension to the scene when the Dwarfers first enter the seemingly abandoned Iron Star. Kryten guides the others around, speaking in a manner similar to how an estate agent may describe a house to potential buyers (he is attempting to convince them to move there and make it their new home, since Red Dwarf has been lost to the new Holly). Kryten says that Iron Star "benefits from three well-sized cargo bays, and is a conveniently located a short shuttle ride to a nearby moon. Welcoming hallways lead to cargo lifts and an ever-popular airlock. The Bussard ram-jet fusion rocket does need updating, but it's worth remembering that furniture, curtains and a working teleporter are all included. And, most importantly, there is no forward chain."
A new scene in which Lister, Cat, and Kryten explore Iron Star, while Rimmer stays in Starbug 19 to monitor the scans. Cat complains that he is too hot as his visor becomes too steamy to see through. Kryten examines Cat's space suit to discover that his thermostat is faulty, and the temperature gauge is on a setting which could slow-cook lamb. Cat says he will be the first dead guy to ever smell delicious. Kryten says that he is not familiar with these spacesuits, Lister explains that he fished them out of a garbage pile in Cargo Bay 15. Much to Cat's annoyance, fanning himself with a magazine doesn't seem to work. Lister offers to share his suit coolant, but Cat reminds Lister that cats never share anything, even if it means saving their lives. When Lister tries to put a coolant tube into Cat's suit, Cat gets so annoyed that he takes his own helmet off. Fortunately, Cat discovers that he can breathe. Lister then shakes his head at Cat, and takes his own helmet off. Rimmer then finally chimes in on the radio, telling the others that his scans reveal that the air is breathable, and Lister sarcastically tells him that he doesn't know what he would do without him. Cat says that on their next away mission, he is going to drill holes into his helmet, and Lister tells him that he will help him. Cat meows loudly in acceptance.
An extension to the scene when the Dwarfers and the three Cat Clerics encounter Rodon and the Feral Cats on Iron Star. The Cat Clerics tell Rodon that he cannot hurt the 'Holy Poppadum' Cloister (Lister), since he is a 'living god' and therefore nothing can hurt his divine being. Much to Lister's concern, the Cat Clerics give examples as to how Lister is invincible, challenging Rodon to try: set fire to him and he will make a fool of Rodon; shoot him in the face and the gun will fail; stab him in the eye and the knife will go blunt; rip out his tongue and he will still speak. Lister tells the Ferals it won't be necessary.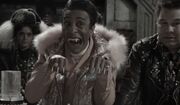 When the Ferals bare their claws at the Dwarfers, Cat bares his own, but they are significantly more manicured and smaller. Lister says that they have back-up on the way, and in walks Rimmer. The Ferals hiss at Rimmer, and Rimmer tells of his motto: "When the going gets tough, the Rimmers get going. See you!" Rimmer then walks back out, rolling up his extension cable as he goes.
As Starbug begins to crash land and Kryten reads the instruction manual, Cat asks why anybody reads. As the 'bug begins to enter the atmosphere of the moon, Lister says that it not slowing down since the atmosphere is too thin. Cat offers to put on some music.
After Cat admits he has already taken the emergency parachute to make fashion items, Lister sarcastically quips that they should never take Cat to the Louvre since he will come out wearing a canvas man-bag made out of the Mona Lisa.
Trivia
The title of the special calls back to a line in the first episode of Red Dwarf, "The End", originally aired in 1988. The line comes from the end of the episode:
LISTER: No! No, it's not Cloister, it's me, it's Lister! It's *Lister* the ... stupid?!
CAT: Who shall returneth to lead us to Fuchal, the Promised Land.
LISTER: No, it's not Fuchal, it's Fiji! And I will! I'll lead you there. (To RIMMER) *That's* where we're going. Holly, plot a course!

Starbug separates into two sections in The Promised Land, leaving the bulbous rear section behind, and the crew use the front section of the 'bug as a lifeboat. The 'bug previously did this in an unbroadcast scene from the 'Xtended' edition of "Tikka to Ride" (1997) on the Series VI DVD.[29]
The scene where the Dwarfers go into an airlock to have a private discussion away from Holly is reminiscent of a very similar scene in a 2001: A Space Odyssey. In 2001, two characters go into an airlock to discuss what they should do about their malfunctioning and potentially murderous computer Hal 9000; however Hal reads their lips. In The Promised Land, the Dwarfers go into the airlock and shield their mouths so that Holly can't lip read; however they are unwittingly broadcasting their conversation around the entire ship.
Background Information
Red Dwarf is the second sitcom in UK television history to have aired new episodes in five different decades; the first was Last of the Summer Wine.
In regards to the TV special, Craig Charles said, "I will surely require the services of a chiropractor after dragging these doddering misfits through what promises to be our most epic adventure yet. Dave Lister, the human race's last hope in a hostile universe. God help us. And may the Dwarf be with you."[30]
Ed Moore, director of photography for Series XI and XII, was replaced by Ian Adrian due to Moore having prior commitments.[31] Adrian previously acted as such for the one hour special of Doctor Who, "Twice Upon a Time", which was the last story of the Twelfth Doctor.
When switched into low-power mode, Rimmer is displayed in black-and-white; this effect was originally intended to be permanent feature of Rimmer's character from the beginning, however this was nixed in earlier series due to budget concerns. Advances in special effects have allowed this be done a lot more realistically and within budgetary means (see Hologram)
The Felis sapiens Holy Book (first shown in the Series I episode "Waiting for God") was recreated for The Promised Land, the originals having long since been lost. The images in the recreated Holy Book are almost identical; however the depictions of Cloister look more like Lister than they did in the original.

The shot where the Dwarfers escape in Starbug from the hangar of the exploding Iron Star is almost identical to the shot where the crew escape the exploding Asclepius' Station in the Series XI episode "Give & Take". The take-off is the same, but when flying through the hangar the shot is mirrored and more flames are added.
Richard Naylor said on his Twitter feed that there was a whole scene written with the three Cat Clerics stealing the Anubis Stone; this scene would have also explained the origin and/or the nature of the Anubis Stone. However, it was decided that the scene would have to be cut for pacing reasons, and it was not filmed.[32] This caused criticism from some fans since the omission of this scene reduced the Anubis Stone to a MacGuffin.[33]
Errors / Inconsistencies
Production error: In the prologue sequence, when the Cat Clerics trick the Feral guards into going into the airlock with the laser pointer, one of the guards momentarily touches the supposedly solid door, and it moves with ease.
Continuity error: The revelation that Cat and Rodon are brothers creates a potential continuity error, since logic would dictate that Rodon should have been long dead by the time of "The Promised Land". Like the other Dwarfers, Cat has spent many centuries in stasis (e.g. "Psirens", "Nanarchy") and also been thrust forward in time many further centuries by anomalies such as wormholes (e.g, "Rimmerworld", "Stoke Me a Clipper"). This is even lampshaded in the episode itself, where Rodon comments on the fact that Cat now appears older than him despite being his younger brother.

It is possible that Felis sapiens are very long-lived, or alternatively that Rodon had also spent many centuries in stasis like the Dwarfers.

A further possibility is that when the Cat Clerics went looking for Red Dwarf in their shuttle, they went through some sort of aforementioned spacial anomaly which put them forwards into the respective timeline of the events in The Promised Land, with Rodon and the rest of the Cat Fleet following them through as they chased the fugitives.

It is also possible that Rodon and his compatriots are not from the same era as the rest of the Cats who left on the B Arc, but a later migration brought there by the temporal displacement of a wormhole or other stellar phenomena, or through entering stasis. This theory posits that after being born from among the stragglers, notably The Cripple and The Idiot, Rodon led a group of followers away, found the other Cats and staged a military coup against the old theocracy.
Quotes
Kryten: Permission to go apeshit mode Sir!
Lister: What is the greatest erogenous zone?
Cat: My mirror.
Lister: It's the brain. You don't have one.
Availability
The UKTV Play on-demand streaming service has the special online, along with "The Promised Doc" making-of documentary, deleted scenes and "smeg ups" (blooper reel).[34]
Red Dwarf: The Promised Land is due to be released on both DVD and Blu-ray in the UK on 1 June 2020.[35] The home media release will have all the additional material currently available on the UKTV Play site, plus an additional making-of documentary called Through an Audience's Eyes and easter eggs.[36] The DVD cover will be reversible and include two different artworks; one matching the poster and one matching the earlier, BBC-era DVD style covers.[37]
Red Dwarf: The Promised Land was home media internationally on 15 September 2020.[38]
Reception
Viewing Figures
Over a million viewers tuned in to the Dave channel to watch the first broadcast of Red Dwarf: The Promised Land, making it the most watched programme on Dave for half a decade.[39] Including time-shifted, consolidated figures (repeats and online views over the following week), this figure is increased to 1.6 million views, making the special the most watched programme outside the British terrestrial channels (BBC and ITV).[40]
Further consolidated viewing figures released a month later by The Radio Times were even higher then the initial figures from UKTV Play, stating over two million recorded views. "Total consumption" of the special across 24 days and made it both the highest-rated show on the network during the coronavirus lockdown, and also the highest-rated broadcast on Dave for several years.[41]
Audience Reception
The initial response from fans on the official Red Dwarf website was generally positive, with the website declaring the special a hit.[42]
On the Internet Movie Database, Red Dwarf: The Promised Land holds an average user rating of 7.7 out of 10, based on 556 ratings.[43] This places it the 48th highest rated episode out of 74.[44]
On Rotten Tomatoes, Red Dwarf: The Promised Land holds an audience score of 75%.[45]
Critical Reception
Rachel Knightley of Starburst magazine gave Red Dwarf: The Promised Land 9 out of 10, stating: "The sit-com-meets-science recipe holds strong, with gorgeous 1980s/'90s technology jokes sitting comfortably beside allusions to the modern world's own daftness."[46]
Morgan Jeffery of The Radio Times gave Red Dwarf: The Promised Land 3 out of 5, stating: "The Promised Land is unlikely to convert anyone who's found themselves immune to the show's charms thus far, but it's a reasonably rewarding outing for the faithful."[47]
Rebecca Nicholson of The Guardian also gave Red Dwarf: The Promised Land 3 of 5, stating: "This feature-length space odyssey sees the gang reunite to fight a bunch of evil felines, in an adventure that's great fun for fans and perfectly watchable for everyone else... ...The Promised Land is not Red Dwarf in its prime. You get the impression that everyone involved knows it, but is trying to enjoy themselves, regardless. "[48]
Sequel
On 11 April 2020, Doug Naylor and Richard Naylor spoke on the Two Geeks Two Beers Podcast about the future of Red Dwarf. Doug said that he has 'a million' ideas about how to further explore the fictional universe, and although he favours the movie-length special format, it may take the form of another series or a fifth novel, but this be down to a number of factors, least of all budget.
One of Doug's ideas would be the Dwarfers coming across the other Red Dwarf crewmembers, including Captain Hollister, who were resurrected by the nanobots in Series VIII, but fled at the end of that series to escape the chameleonic microbe. Hollister and the other resurrected crew may have formed a colony on a new planet.
Doug Naylor said that a finale to wrap up the television show is not being planned: "We've always said that we don't want to do the 'final show,' where Lister's back on Fuchal, he's got his white horses and somehow he's got Kochanski and they ride off into the distance and everyone goes 'What a lame s**t show that was.' It would be just horrific... ... I don't want it to end. Going 'That's the end'… I think that would be horrible. I'm tearing up just thinking about it!"[49][50]
References
External Links